---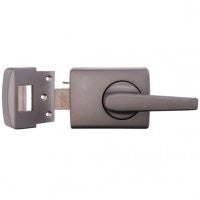 The market leading 002 deadlatch range from Lockwood offers exceptional performance and reliability for various applications where free egress is required at all times.
This single cylinder deadlatch is suitable for open-in timber frame doors.
Features
Automatic single cylinder deadlatch for timber frame with internal lever handle.
Inside lever free at all times.
60mm backset.
Cut resistant 18mm projection stainless steel bolt.
11 concealed anchorage points.
Door frame strengthener.
Hold back function from both sides.
Suits door thickness 30-45mm.
External 5 pin tumbler mechanism.
Compatible to most restricted keying systems (Using a 201 6 pin cylinder.)
Supplied boxed.
Finished in satin chrome pearl.