---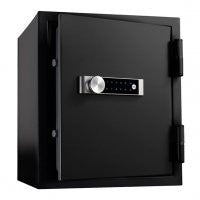 This Yale Fire Security Safe is equipped with a unique digital security keypad with many user functions and features.
A scramble number input enables personal codes to be hidden within longer sequences of numbers. Whilst additional access codes can be set for one time use.
This state-of-the-art safe has been carefully designed to be worthy of your confidence and the Yale brand name.
Protects valuables from theft and fire damage
The Yale Fire Security Safe is certified by SP (Swedish National Testing and Research Institute).
 1 hour fire protection for documents. The internal temperature will not exceed 150ºC in 927ºC furnace.
Features
State-of-the-art digital touchpad
Unique touchpad technology.
Code scramble input function for privacy.
One time access codes.
Silent input option.
1-48 hours total lock-down mode.
Time lock when wrong code is entered.
Re-settable 3-12 digit user code.
Low battery alarm signal.
Emergency battery capability.
Hardened steel plates protect locking mechanism.
Heavy duty hinges protected with 18mm fixed bolts.
Heavy duty 4 point locking.
Adjustable internal shelf.
Heavy duty fixing points (2).